What is the Dinner Winner?
Discover the secret to harmonious family dinners with "The Dinner Winner" – a time-tested tradition from the Eadie family, now available to transform your mealtimes too! Unveil the complete experience with our captivating boxed set, designed to elevate your family dinners into memorable moments of joy and connection.

Immerse yourself in a delightful narrative accompanied by enchanting illustrations that bring the beloved Eadie family to life. Join Jason, Stefanie, Blaire, Brooklyn, Blake, and Bryson, affectionately known as NuNu, as they navigate the world of dinner etiquette in a heartwarming tale that resonates with parents and children alike.

Whether you're seeking a guide to manage lively youngsters during dinner or craving an engaging children's book that sparks laughter and learning, "The Dinner Winner" delivers it all.

Inside this thoughtfully curated set, you'll find:
- The captivating "Dinner Winner" book, overflowing with wisdom and charm.
- The prestigious "Dinner Winner" trophy, adding a touch of excitement to every meal.
- Step-by-step instructions for the "Dinner Winner" challenge, ensuring endless hours of family fun.

Elevate your family dinners and create cherished memories with "The Dinner Winner." Order now to unlock a new level of dinner enjoyment for everyone at the table!
Let's Play Dinner Winner!
The Dinner Winner Game
The Eadie family has been playing Dinner Winner for years and is excited to finally share this method of good dinner behavior with the world! This boxed set has everything needed to make your family dinner more enjoyable and a better experience for all!
Enjoy an entertaining story with beautiful illustrations featuring all your favorite people from the Eadie Family (Jason ,Stefanie, Blaire, Brooklyn, Blake and Bryson aka NuNu).  Whether you need help controlling your kiddos at the dinner table, or just want an all around fun children's book, The Dinner Winner has you covered!
Contents Include:
Regular price
$34.99 USD
Sale price
$20.00 USD
Unit price
per
Share
View full details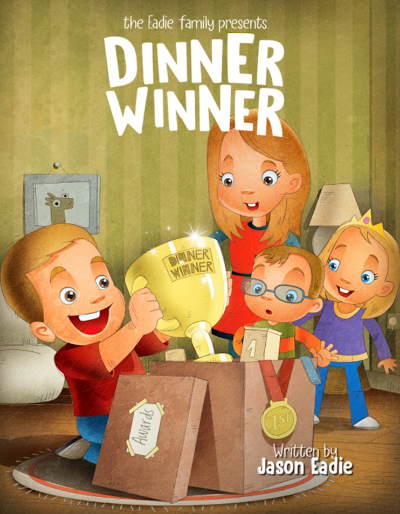 A brief history of Dinner Winner...
A brief history:
I was sitting at our family dinner table in 2018 when the idea hit me. My children (just Blaire and Brooklyn) at the time weren't behaving very well and I announced to the table, "Who wants to play Dinner Winner?"
My eldest daughter Blaire immediately looked up and asked what Dinner Winner was. Thinking on the spot, I announced that the Dinner Winner would be the kid who had the best manners at dinner, ate their food and participated in our conversations.
At the conclusion of dinner that night I stood up and proclaimed (in my best Prize Fight announcer voice) "Ladies and Gentlemen, WELCOME TO TONIGHT'S DINNNNER WINNNER!"
Blaire and Brooklyn both got excited with this announcement. I continued, "It was a hard fought battle tonight, but there can only be ONE Dinner Winner... Drum roll please..."
The kids started banging on the table as if playing the drums.
I proceeded with the exciting announcement, "Tonight's Dinner Winner is.... BLAIRE EADIE!" Blaire's face lit up with excitement that she had just won Dinner Winner! Did I just find a parent hack?
Fast forward to the next night, before dinner began, Blaire asked if we could play Dinner Winner again. That night Blaire and Brooklyn were on their BEST behavior and it was obvious they both wanted to win.
This was the moment that I realized the process described in the Dinner Winner book actually works!
Over the last couple years, countless Friends and family members have implemented the Dinner Winner process into their evening meals and are always shocked at just how well it works. Start enjoying dinner time again with the family, it's the most important meal of the day :)
Purchase Now!
The Dinner Winner

Whether you're eating at home, dining out, or having dinner with friends, your kid's behavior will generally dictate your level of enjoyment for that meal. Dinner Winner is a useful tool to break out on those nights where you just know, it's not going to be good.

The Eadie Family

"That family from TikTok"

You may know us from some of our social media channels, but if you don't, welcome! My name is Jason and I've been married to my beautiful wife Stefanie since 2009. We have four amazing kids together (Blaire -8, Brooklyn -4, Blake -3, Bryson -2). We currently reside in South Florida.